Arkansas Animal Welfare Conference 2023
–
March 6, 2023 – March 8, 2023
Join us for the first Animal Welfare Conference hosted in the State of Arkansas! Mark your calendars!
Download Conference Flyer
The Arkansas Animal Welfare Conference will be held at Inn of the Ozarks Conference Center in Eureka Springs, Arkansas March 6 - 8, 2023.
The conference, the first of its kind in Arkansas, will feature speakers from both the national and regional level.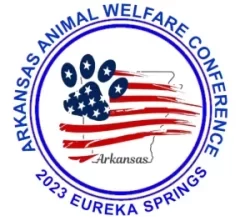 This conference is bringing together all facets of animal welfare in our state:
Animal Control and Services Officers
Publicly funded Shelter Staff
Private, non-profit Shelter Staff
Animal Rescue Organizations
Shelter and Rescue Volunteers
Shelter Support Organizations
And many more!
Date & Time
Mon, Mar 6, 7:30 AM - Wed, Mar 8, 12:00 PM CST
Host Hotel:
Inn of the Ozarks
207 West Van Buren Street
Eureka Springs, AR 72632
479-253-9768
www.innoftheozarks.com
Cost to attend:
$175.00 for ASACA Members, and $200 for non-members (includes a 1 year membership!)
Location: Inn of the Ozarks Conference Center
Conference Website: https://www.aranimalcontrolassociation.com/product/ArkansasAnimalWelfareConference/16
Registration